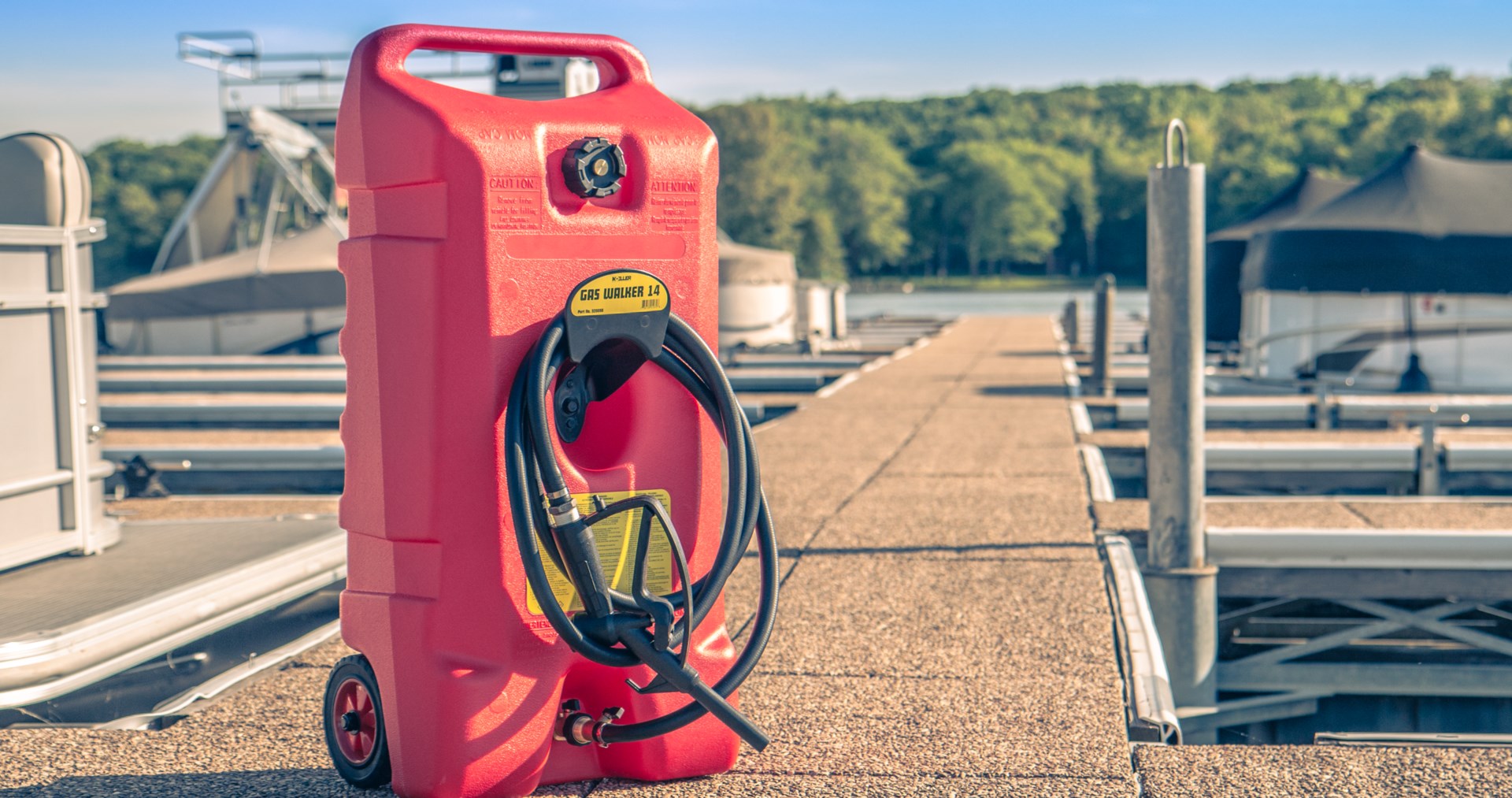 14 Gallon Portable Gas Caddy Quick-Fill Station
Stay on the water longer with our premium-quality, marine-grade portable gas caddy.
Shop the Gas Caddy
The portable Gas Caddy Quick fuel station is a perfect companion for boaters who don't have easy access to fuel docks or gas stations. Our Gas Caddy delivers a 14 gallon capacity, a 10 foot reinforced hose, locking nozzle, and stainless-steel clamps that withstand harsh marine environments. High density polyethylene helps prevent expansion in the tank walls, allowing rugged 6 inch wheels to spin without resistance. The robust molded handle allows for easy transportation at home or on the dock. 
Avoid Kinks
Our 10', ¾" corded reinforced hose offers superior flexibility and reduces kinking when compared to leading competitors. This allows for an unobstructed fuel flow and increases the longevity of the fuel line.
Locking Nozzle
Once inserted into the boat's on-board fuel tank, the nozzle can be locked open to eliminate fatigue from holding the nozzle while waiting for the boat to fill up.
Minimal Tank Expansion
Sierra's 14 Gallon Gas Caddy is designed with thicker tank walls to minimize the repetitive expansion and contraction caused by temperature changes in the fuel. This robust design ensures the longevity of our tanks and eliminates issues such as wheel rubbing that can be found among competitive brands.
Gas Caddy FAQ
Q: How is the gas fed from the tank to the nozzle?
A: The Gas Caddy has a gravity flow design. This helps when filling your tank from the dock while your boat is in the water.
Q: What kind of flow rate can I expect?
A: You can expect an average flow rate of two gallons per minute when used as intended
Q: Can I use this for a pontoon boat?
A: Yes! You can use the Gas Caddy to fill anything that takes gasoline. But it's a fantastic addition for boaters who live on large lakes and like to explore remote waters. Anyone who doesn't have easy access to a fuel dock or gas stations will benefit from the Gas Caddy.
Q: Can I lay the Gas Caddy down on its back when it's onboard? 
A: Yes. The Gas Caddy is designed to be filled and transported in a horizontal position.
More about the 14 Gallon Gas Caddy from the Experts at Sierra
The Sierra Gas Caddy has been carefully engineered especially for mobile refueling. Its 14-gallon capacity is ideal for a range of pontoon boats, deck boats, bass boats, aluminum Fish & Ski rigs, flats skiffs and other popular vessels.  It provides enough fuel to fill or top-off the tank, yet is still easy to fill, transport and use when you're at the boat.
56 Years of Sierra
SIERRA has a 56-year history as a leading global manufacturer of aftermarket engine and drive parts for the marine industry. The SIERRA brand encompasses the full SIERRA Marine product lines, as well as expansive marine brands formerly known as Shields and Moeller.
Learn More